Romani Blood (Shifter Blood: Romani Curse Book 1)
WOLVES. WITCHES. A TOWN FULL OF SECRETS.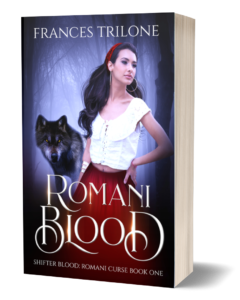 Seventeen-year-old Sienna doesn't like her new home in Woodlake, Michigan. The moment she enters the small Romani community, she has to follow their strict rules – No boys. No school. No cell phones.
Forced to work at the café, Sienna meets Kaleb and her world changes forever. He's unlike anyone she has ever met. He's dangerous, forbidden, and a shapeshifter. She quickly realizes that falling in love with the wrong guy can be riskier than she'd ever imagined.
With a tourist missing and a killer on the loose, the Town Council and Romani Elders agree to join forces with the Norwood wolves. But when the evidence leads straight to Kaleb and more secrets are exposed, Sienna must choose . . .
Loyalty to her Romani blood? Or love for the enemy, a Norwood wolf?
This book is only available on Amazon since it's part of their Kindle Unlimited Program. If you don't have a Kindle, no worries – you can grab the Kindle app FREE for any device!